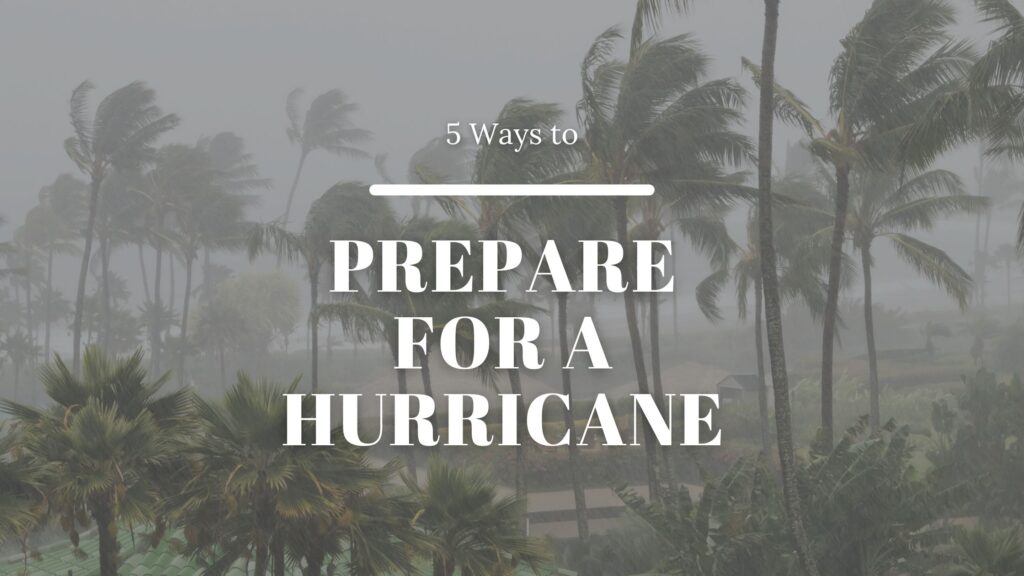 5 Ways To Prepare For A Hurricane
The 2021 hurricane season has been predicted to last through mid November. We have already seen several hurricanes come through the Gulf, and know that preparedness for these storms is of the utmost importance. Read this article for 5 ways to prepare for a hurricane, and make any necessary adjustments now.
1. Stay Informed
As simple as it may seem, it's crucial to sign up for local weather alerts. Hurricanes are not only a coastal problem as rain, wind, and tornadoes can cause severe damage inland from where the hurricane makes landfall. Monitoring these warnings will keep you informed and ready to take action when necessary. As you keep an eye on these alerts, begin stocking emergency supplies and ensure that critical paperwork and other items are kept safe. Financial, educational, legal, and medical paperwork should be safely stored away in a secure lockbox or brought with you upon evacuation. 
2. Prepare Your Property
Install storm shutters before hurricane season arrives. Storm shutters protect your home from intense winds and flying projectiles. Additionally, keeping trees trimmed and well-maintained around your property will help in preventing property damage from broken tree limbs. If a hurricane is already on its way, bring any loose outdoor furniture or decorations inside. If they are too large, be sure to secure them down to prevent anything being displaced by heavy winds or rain. Lastly, your garage door is often the most vulnerable, and bracing the door can protect your home.
3. Protect Your HVAC Equipment
To keep your outdoor systems as safe as possible, shield them with plywood to protect the equipment from any flying debris. However, be sure to remove any coverings as soon as possible after a hurricane. You can also secure the outdoor systems with hurricane straps to hold them in place against high winds. 
4. Have An Evacuation Plan
Sometimes, the best thing you can do for you and your family is evacuate and seek a safer location. Have bags of essentials packed so you can quickly grab them and head out. As you leave, be sure to never drive or walk through flooded areas. Floodwater can hide objects within it and can compromise the quality of the road. Learn evacuation routes prior to leaving your home. You don't want to be stuck in or without your vehicle.
5. The Final Checklist
As a hurricane rolls in, there are many miscellaneous preparation tasks you may forget about.
Adjust your fridge to the coldest setting to reduce the chance of food spoiling if the electricity goes out.

Fill bathtubs and sinks with water to ensure you have enough for drinking or household tasks.

Make sure your car has a full tank of gas and is ready to drive at a moment's notice.

Charge all your mobile devices!

Refill your medications before the storm. Shipments to the pharmacy may be delayed for some time. 
Contact Us
When it comes to your HVAC system after a hurricane, the safest thing you can do is have a professional inspect the equipment. Island Air's team has many years of experience in the Gulf Coast area. We are prepared and ready to help. For more information on our services, visit our website at https://callislandair.com/ or email us at [email protected]. We are your trusted American Standard Heating and Air Conditioning Customer Care Dealer in Gulf Shores, AL.
Feel free to call us at (251) 943-4709, and be sure to follow us on Facebook and Instagram! prepare for a hurricane prepare for a hurricane prepare for a hurricane prepare for a hurricane