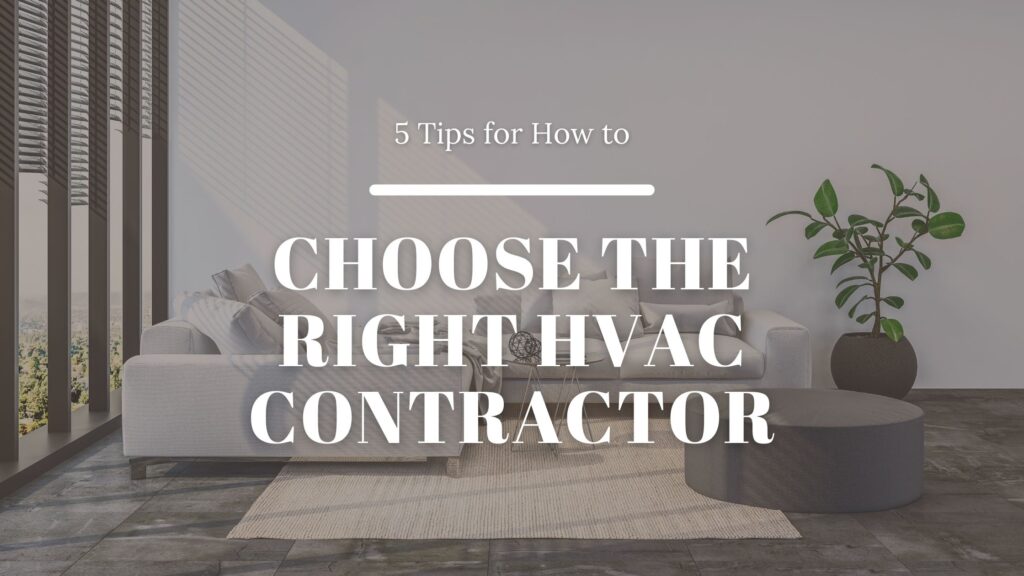 5 Tips for How to Choose The Right HVAC Contractor
Your HVAC system is one of the biggest investments in your home, if not THE biggest. For that reason alone, who you choose to service your HVAC system is critical. Experienced HVAC professionals will keep your system working efficiently, prolong your system's life, and help keep more money in your pocket. Before you decide who you're going to let service the biggest investment in your home, consider these 5 helpful tips on choosing the right HVAC contractor.
1. Compare Companies
If you're a savvy shopper, you likely compare companies before making a majority of your purchases. Why would choosing an HVAC company be any different? It's always a good rule of thumb to reach out to at least 3 different companies to compare prices and warranties. Ask about their repair and maintenance policies, learn about their protocols for if accidental damages were to happen during work, and ask about the training requirements for their technicians. There are a range of questions you can ask potential contractors to find out which one will best suit your needs. And no, that doesn't always mean the HVAC contractor who has the lowest price.
2. Don't Always Pick The Lowest Bidder
While an unbelievably low price may be very enticing, you should do your research before jumping on the deal. A higher price is often set for a reason. Higher prices could mean the company uses/offers higher quality equipment, better trained technicians, or above average services. Surprisingly low prices often reflect low quality service or inexperienced employees. A low price might also indicate a contractor whose goal is to set an appointment and then up-sell you on higher priced services. Don't be afraid to ask a contractor why their prices are at certain points and what their prices include. 
3. Research Their Experience
When a company has been in business for a long period of time, it usually indicates that they're a good choice because the company is well-established, familiar with the service area, and knowledgeable about their client base. These factors make for a great HVAC contractor.
In researching their experience, you should also ask about the required training or certifications of their employees. Many good HVAC contractors have factory-trained and licensed technicians that are more than qualified to inspect, maintain, repair, or replace your HVAC system.
4. Read Reviews
It may seem simple, but reviews are there for a reason; read them! Reading other customer's experiences can give you a good feel for the company and what your experience may be like. Oftentimes, reviews will offer some insight into pricing as well, and let you know if you're going to get your money's worth. If you're looking for a new HVAC contractor, reviews are a great place to start.
5. Consider Who's State Licensed
The HVAC company you choose to use should always be state licensed. Being licensed in your state is an essential requirement that can weed out some potential contractors on your list that likely don't know what they're doing, or are scams. Unfortunately, they do exist! Be sure that whoever you select is qualified to fix your system or any other in your community!
Consider Island Air
When it comes time for a new system, system maintenance, or repairs, consider Island Air. For more information on our services, visit our website at https://callislandair.com/ or email us at [email protected]. We are your trusted American Standard Heating and Air Conditioning Customer Care Dealer in Gulf Shores and Orange Beach, AL.
Feel free to call us at (251) 943-4709, and be sure to follow us on Facebook and Instagram!