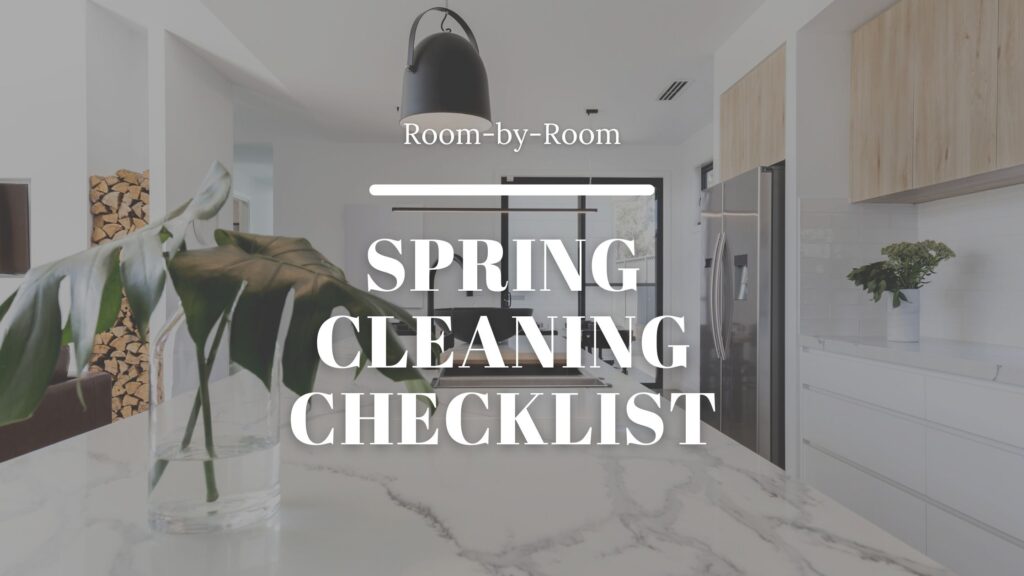 Room-by-Room Spring Cleaning Checklist
Do you run and hide at the mention of the words "spring cleaning?" If you're like most of us, the answer is yes. Spring cleaning doesn't have to be a daunting task, though! By taking on one room at a time, you can ensure every area of your home gets the attention it needs without trying to do it all at once. Follow this room- by-room spring cleaning checklist to help ensure your home is cleaned from top to bottom. 
☐ 

The Kitchen
It's easiest to tackle spring cleaning by breaking your home down into sections. This makes the entire process feel much less overwhelming. For your kitchen, begin by emptying all your drawers, cabinets, and fridge to give them a good cleaning while empty. As you take out all of your food, pay attention to expirations dates and toss out old or unwanted items. Next, give all of your appliances a good scrub. Your oven, stovetop, microwave, and sink could all use a thorough cleaning. To finish things up, wipe down and sanitize your countertops, drawer or cabinet handles, backsplash, sink, and kitchen floor (after sweeping or vacuuming). 
☐ 

Living Room
Your living room is a hotspot for dust, dirt, and pollen. With many people coming in and out, it can be tricky to keep this area clean. Begin by dusting everything (and we mean everything). This includes ceiling fans, light fixtures, shelves, blinds, furniture, tabletops, decor, air vents, and more. After you've dusted, vacuum your furniture and floors to cut down on any pollen which could have been tracked in on family member's clothes or shoes. 
☐

  Bathrooms
By now, you can see the routine. Clear out your bathroom cabinets and drawers to give them a good cleaning and then reorganize. Deep clean your bathroom sinks, toilets, and mirrors. Finish everything off by sweeping and then mopping the floors. As you clean, keep an eye out for any grout lines which may need to be resealed. Lastly, don't forget to give those bathroom curtains, rugs, and decorative towels a wash; we know it's been awhile. 
☐ 

Bedrooms
Time to put your washer to work! Wash your pillows, comforters or duvets, curtains, sheets, and blankets. While everything is in the wash, flip your mattress if needed. Follow the same dusting routine as you did with your living room, by wiping down decor, baseboards, light switches, lighting fixtures, and more. If your bedrooms are carpeted, consider shampooing them for a much deeper clean than only vacuuming.
Insider tip: If you have pets, you can actually try raking your carpet every year to pull up pet hair that the vacuum can't get on its own. Rake before you vacuum and you'll be astonished at the amount of hair you might pull up.
☐ 

Indoor Air
All of this cleaning can help your home feel fresh and comfortable to live in. However, installing an air purification system is the only way to ensure airborne contaminants are regularly removed from your home. Without an air purification system, a large amount of allergens could be floating throughout your home this spring. Simply contact Island Air to discuss air purification solutions and find which system best suits the needs of your home and your family. 
Learn More
Give us a call at (251) 943-4709 to ensure your home's air is clean and healthy to breathe. For more information on our services, visit our website at https://callislandair.com/ or email us at [email protected]. We are your trusted American Standard Heating and Air Conditioning Customer Care Dealer in South Baldwin County, AL. 
Be sure to follow us on Facebook and Instagram for more helpful information regarding your home comfort and your HVAC system! spring cleaning checklist spring cleaning checklist spring cleaning checklist